Telecommunication
Having finally recovered from the global economic downturn and come to terms with the challenge of mass broadband and digitisation, the industry had to contend with the ongoing issues of how to grow and become more profitable.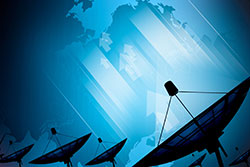 Costs are rising while margins are falling. Customers show little brand loyalty and take-up of new services has recently been disappointing. Industries are becoming increasingly digitised, demanding new services like mobile payment platforms and cloud computing. Vertically integrated technologies, on which operators have long depended, are growing increasingly modular and open and the telecom ecosystem is becoming more competitive. These challenges and opportunities are creating a fundamental shift among operators from the vertically integrated business models that dominated the industry for most of the past century.
Most operators are experiencing the growth of data traffic over both wireless and fixed networks at explosive rates. Traffic growth is driven by the massive uptake of smartphones and tablets, the mobile internet, and digitisation technologies such as cloud computing. The result was that many mobile operators struggled to meet demand, and instances of substandard network performance and poor customer service were more frequent. With wireless broadband speeds fast approaching those of fixed-line connections, and with ever more users shifting their online activities to their smartphones, operators will need to rethink their roles within the PC and mobile value chains. In particular, the mobile value chain is becoming increasingly intricate. Telecommunications companies must cut operating costs and improve customer service, yet remain agile enough to respond to sudden market developments.
---

Technological innovation is not slowing down or leveling off, but ramping up – and businesses will soon face a barrage of new digital possibilities – there is no time for complacency.
"You're unique – you don't tell us what we want to hear, you tell us the hard truth."
CEO of a global Media Company