Our people
We know we can only deliver on the promise and execute well if we have the right people. We nurture the 5 Cs in our people: capability, credentials, character, courage and collaboration. We encourage our people to pursue their dreams and find meaning in their personal and professional lives.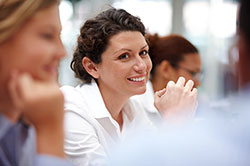 We work hard and bring urgency to our clients with our infectious energy. Beginning with warmth, our people allow trust to develop, facilitating both the exchange and the acceptance of ideas. We cultivate that warmth, and through collaboration we build trust which boosts the quantity and quality of ideas.
Our people come from a variety of backgrounds and from all corners of the world. They are passionate about what they do. They have exceptional education and are proven leaders in their fields, and they all share common values. Our people make us different and help to lead the industry in which we operate. The calibre of our people is the primary reason our clients recommend us to others.
Our consultants are business leaders and not just business school graduates.