Banking
Banks are changing dramatically amid an avalanche of regulatory change and widespread debt reduction. But will they be safer and provide value for money services to customers?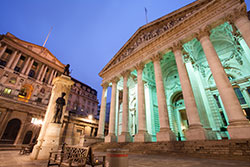 Confidence in banks and bankers are an at all time low. To address this and for trust to flourish once more, we need a reinvention in leadership, supervision and ethics. How can this be achieved? Simply there must be a higher level of skill and knowledge required by all those in the banking sector, deeply rooted in personal values that reflect an understanding of the banker's ethical duty. There is absolutely no reason why a banker who fails to execute their fiduciary duty to the proper standards should not be struck off like a doctor or a lawyer who breaks ethical norms.
Whilst the banks attempt to rebuild their reputation, unfortunately, the transparency of the internet hasn't led to the disaggregation of bundles and the disappearance of cross-subsidies in the industry. Banks need to step up the pace of innovation, developing new ideas and next practices, implementing them more swiftly, making offerings digital, exploiting the power of big data and the ubiquity of mobile communications to drastically improve the value to their customers, increase efficiency and manage risks more effectively. The upsides are massive, the downsides are stark. Margins will fall unless banks reinvent what they offer and how they work.

Corporate banking

Retail banking

Private banking

Investment banking


Banks are changing dramatically. But, will they will be safer and provide value for money services to customers?
"You're different because your consultants held senior leadership roles, which is in contrast to the other management consulting firms."
COO of a Financial Services Company